PLEASE DO NOT COME IN TO THE OFFICE IF YOU HAVE ANY RESPIRATORY SYMPTOMS. 
WE ARE HAPPY TO CHANGE YOUR APPOINTMENT TO A VIRTUAL APPOINTMENT IF YOU DEVELOP SYMPTOMS, SO PLEASE CALL THE OFFICE AND LEAVE US A MESSAGE.  THANK YOU.

---
* Unfortunately, our practice is full and cannot accept any more patients. * 
---
INFLUENZA/COVID-19 VACCINATION
Influenza vaccines are available BY APPOINTMENT ONLY, for all patients aged 6 months and older.  We DO NOT accept walk-ins.
We do not have COVID-19 vaccines available at this time.  Please book through Public Health or with a registered pharmacy.  
**JAN 13, 2022 UPDATE**
With the rise of Omicron, hospitals are starting to see admissions of infants with COVID-19.  Maternal antibodies can provide protection for the first 6 months of a child's life, so individuals who are currently pregnant will be accepted as walk-ins for their first, second, or third dose at any of the COVID-19 vaccine clinics run by the Region of Waterloo.

---
 OMICRON TESTING AND ISOLATION PUBLIC HEALTH UPDATE (as of Dec 30)
Click the link below for the full pdf:
Dec 30 Omicron Testing Update PDF 
**JAN 1, 2022 UPDATE**
PCR testing is only available for vulnerable individuals with significant medical issues, residents and staff in long-term care residences and retirement homes, and hospitalized patients and hospital staff.  A PCR test is no longer needed to confirm a positive rapid test result.
What is the base line?
If you have any of the symptoms listed for COVID-19, you should assume you have COVID-19 and isolate until your symptoms improve (which may be longer than the MINIMUM recommended isolation time in some cases).
Should I get tested?
Molecular testing (PCR) is currently being prioritized for those at increased risk of severe outcomes (such as people with cancer or an autoimmune condition, long-term care residents, etc) and those living and working in the highest risk settings (e.g. healthcare workers).   Molecular testing is no longer recommended for all symptomatic individuals in the community.  Anyone who is symptomatic should isolate according to the directives given by Public Health.  
Can I do a rapid test at home instead?
People with COVID-19 may test negative on a rapid test for several days after infection, so if you have been exposed to an individual with COVID-19 you should perform 2 rapid antigen tests 48 hours apart if the first test is negative.  
Positive rapid antigen tests do not need to be reported to the public health unit.
How long should I isolate if I have symptoms?
See the flowchart below: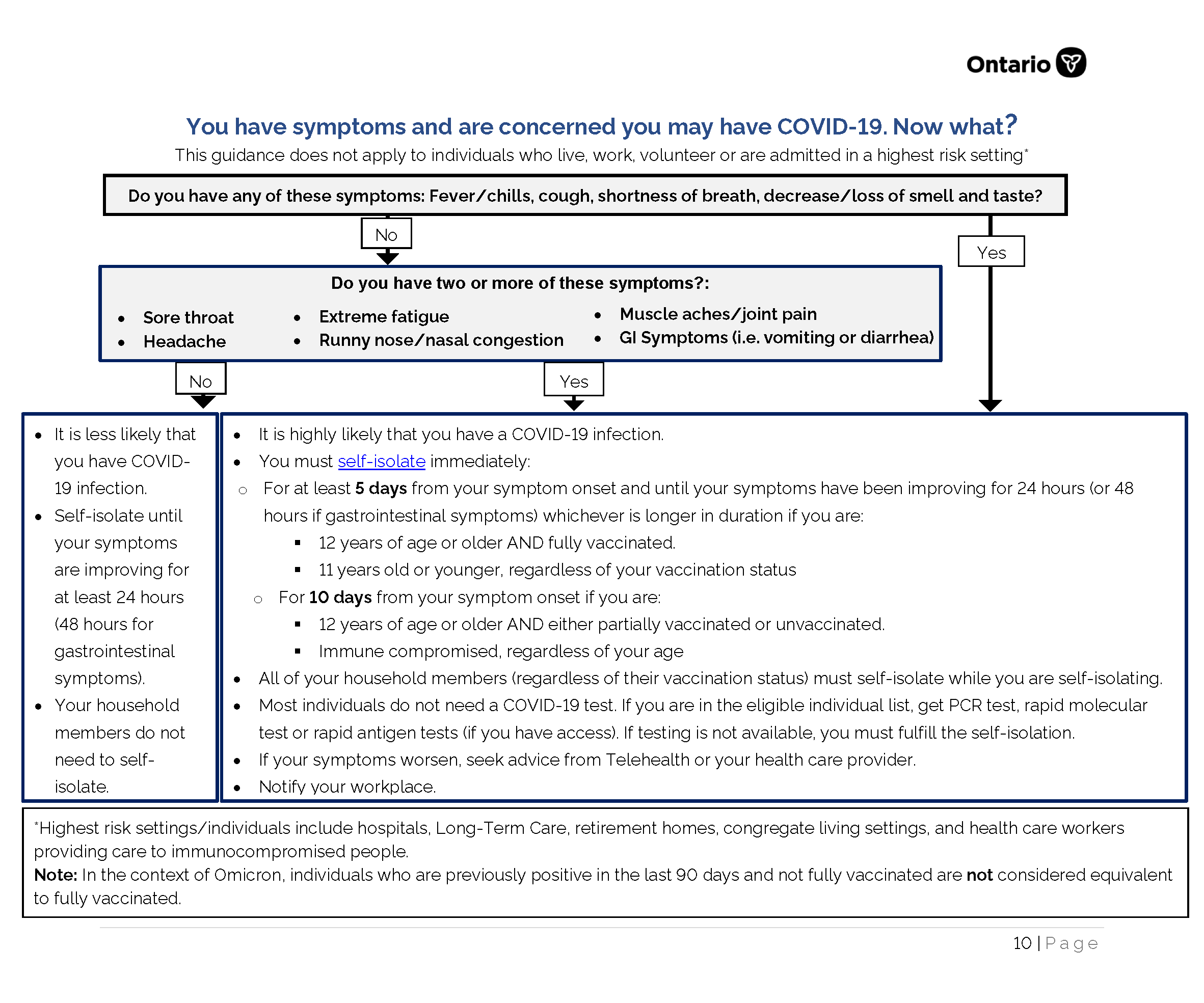 How long should I isolate if I have been exposed to someone who tested positive?
See the flowchart below: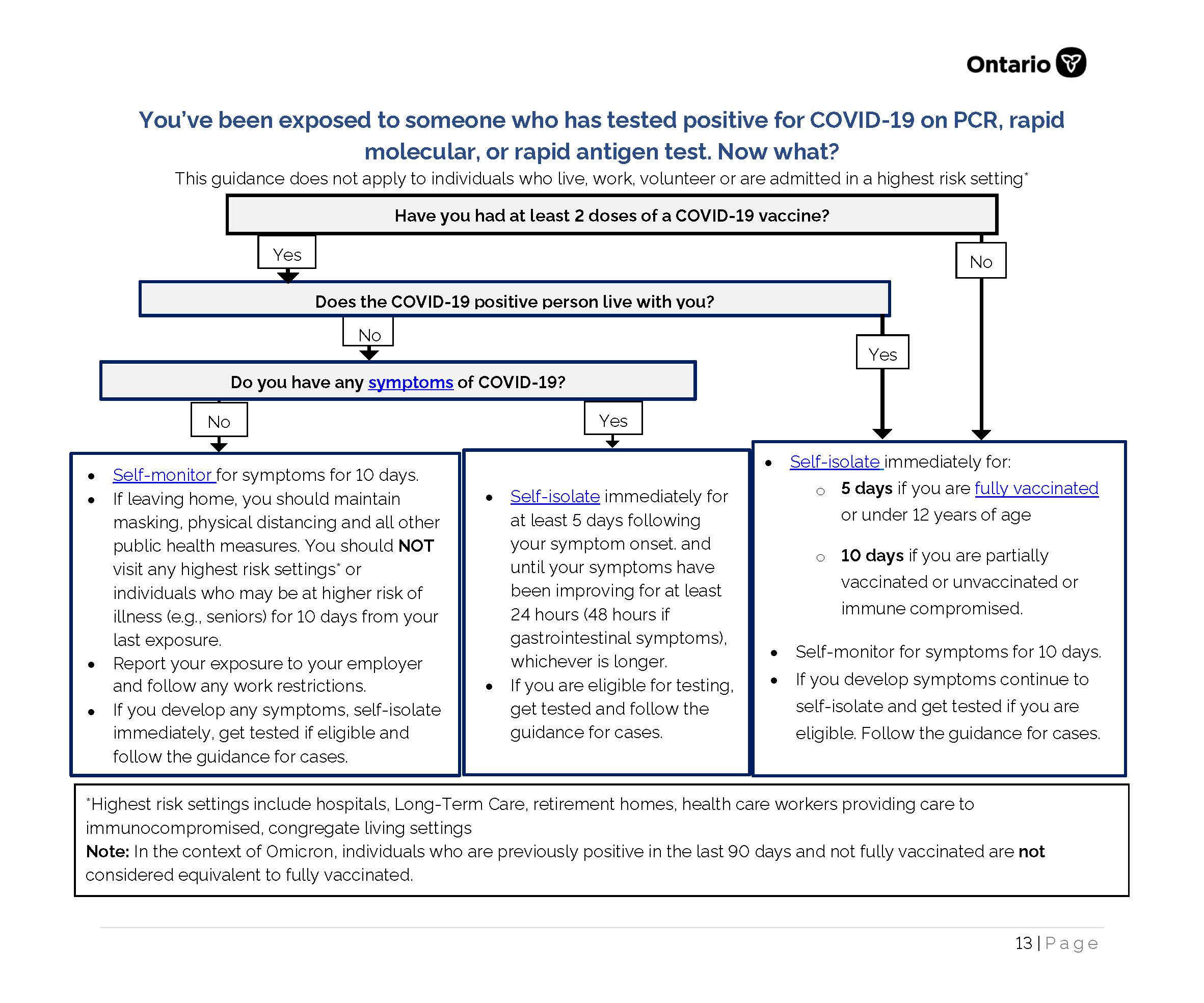 If you have been potentially exposed to someone with COVID-19 and fall under the "Self-monitor" category, you should be wearing a a medical grade mask (or double masking if using fabric masks without a filter layer) in ALL PUBLIC SETTINGS even when not explicitly required, including outdoors when within 2 metres of another individual. 
Single layer masks such as neck gaiters DO NOT qualify as proper masks, and should be used in conjunction with medical grade masks or multilayer cloth masks (ideally with a filter layer).
---
COVID-19 Vaccine Information (updated December 19)
* We do not have COVID-19 vaccines at this time *
At the present time, COVID-19 vaccinations are available at specific designated locations in the community.  We are not administering these vaccines in our office, due to the complexity in storage requirements of the current vaccines.  We do hope that at some point we will be able to start administering COVID-19 vaccines. 
Public health COVID-19 vaccine clinics are offering Moderna (SpikeVax) and Pfizer-BioNTech (Comirnaty) vaccines to people age 5 and older.  Appointments are required to receive the vaccine at both the Cambridge Pinebush Vaccination Clinic and the Waterloo Boardwalk Vaccination Clinic.  The Region of Waterloo is also offering in-home vaccination (to eligible people), mobile vaccination clinics, and post-secondary education clinics.   To find out more information about these clinics and other information about the vaccine for the region of Waterloo, please click on this link:  https://www.regionofwaterloo.ca/en/health-and-wellness/covid-19-vaccine.aspx#
Some pharmacies are offering Moderna and Pfizer-BioNTech COVID-19 vaccines to people aged 5 and older. To find out more information, please click on the following link:  https://covid-19.ontario.ca/vaccine-locations
Second dose interval:
Moderna or Pfizer - you may receive a second dose as early as 28 days after your first dose
AstraZeneca - you may receive a second dose as early as 56 days after your first dose
If your second COVID-19 vaccine is different from your first dose, you do not need to start your series over again.
Third dose:
In Ontario, all adults 18+ are now eligible for a third dose, 3 months (or 84 days) after their second dose, in order to ensure maximum ongoing protection against COVID-19.  Please click on the above Region of Waterloo or pharmacy links to find out more about eligibility and booking of third doses.
Booster dose:
Moderately to severely immunocompromised individuals may receive a booster dose (i.e. 4th dose) at least 3 months (84 days) after their third dose.  Such individuals should confirm with their specialists whether this booster dose is recommended for them.
Proof of Vaccination:
Vaccination receipts may be obtained from the Ontario Provincial Health website, by clicking on the following link:  https://covid19.ontariohealth.ca/
---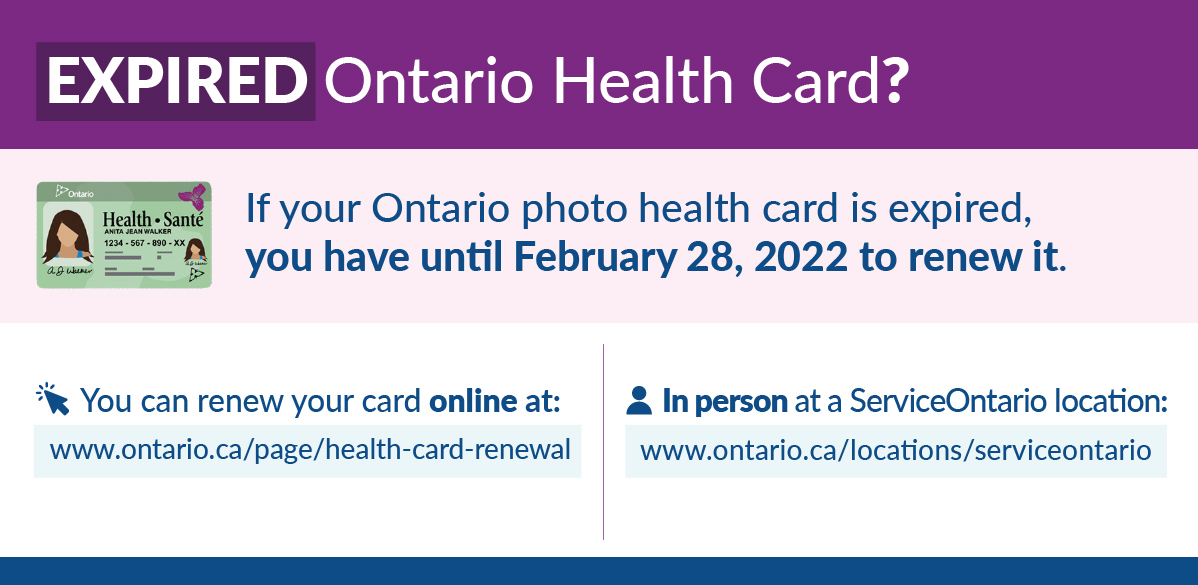 NOVEL CORONAVIRUS INFORMATION
Useful links:
COVID-19 Vaccine - Region of Waterloo
Vaccine Queue Calculator for Canada
COVID-19 Assessment and Testing Centres in Waterloo Region
CPSO - COVID-19 FAQs for Patients
https://www.ontario.ca/page/2019-novel-coronavirus-2019-ncov
https://www.canada.ca/en/public-health/services/diseases/2019-novel-coronavirus-infection.html
https://www.cdc.gov/coronavirus/2019-ncov/about/index.html
Coronavirus Update (Live) from Worldmeters
---
"Any person presenting a red and white OHIP card after July 1, 2020 will be required to pay for all health services until a new photo health card is obtained."