* Unfortunately, our practice is full and cannot accept any more patients. *
---
COVID-19 Information (updated May 6)
COVID-19 VACCINES
At the present time, COVID-19 vaccinations are ONLY available at specific designated locations in the community. We have not yet been given permission by public health to administer these vaccines in our office, although we are hopeful that at some point later this year we will be able to start offering COVID-19 vaccinations to our patients.
Public health COVID-19 vaccine clinics are accepting pre-registration for people meeting any of the following eligibility criteria
Adults 50 years of age and older, including those born in 1971 and turning 50 later this year
Health care workers (all categories)
Indigenous adults (Includes individuals and elders regardless of status or Indigenous identity and any adults 18 years of age and older, living in their immediate household.)
Long-term care and retirement homes staff and essential caregivers
Seniors group settings staff, residents and essential caregivers
Adult recipients of chronic home care
12 years+ with any of the following "highest risk" health issues: pregnancy, organ transplant recipients, hematopoietic stem cell transplant recipients, people with neurologic diseases in which respiratory function may be compromised (e.g. motor neuron disease, myasthenia gravis, multiple sclerosis), hematologic malignancy diagnosed <1 year, kidney disease with eGFR <30
12 years+ with any of the following "high risk" health issues: obesity with BMl>40, other immunosuppressive treatments (eg. Chemotherapy, immunity-weakening medications), intellectual/developmental disabilities (e.g. Down Syndrome)
12 years+ with any of the following "at risk" health issues: Immune deficiencies/ autoimmune disorders, Stroke or cerebrovascular disease, Diabetes, Liver disease, All other cancers, Respiratory diseases, Spleen problems (e.g., asplenia), Heart disease, Hypertension with end organ damage, Diagnosed mental disorder, Substance use disorder, Sickle cell disease, Thalassemia, lmmunocompromising health conditions, Other disabilities requiring direct support care in the community
One essential caregiver per patient, in the "highest risk" or "high risk" category, is also eligible for a vaccination appointment ONLY IF the patient requires regular and sustained assistance with personal care and/or activities of daily living.
Faith leaders who are in close contact with persons and families in the following situations: end of life care, care of the deceased, funerals, bathing or other ceremony with direct contact with the deceased, home visits to unwell persons, pastoral care in hospitals, long-term care, or retirement homes
Residents and front-line staff in the following high-risk settings: supportive housing, emergency homeless shelters, homeless populations, mental health and addictions congregate settings, employer-provided housing for farm workers, adult correctional facilities, violence against women shelters, children's residential facilities, indigenous healing and wellness, youth justice facilities
One essential caregiver for residents in the following high-risk congregate settings: developmental services, mental health and addictions congregate settings, homes for special care, children's residential facilities including group homes and foster homes, indigenous healing and wellness
Adults 18+, or born in 2003 and turning 18 this year, who live in the following high-priority neighourhoods: Vanier/Rockway, Country Hills, Alpine/Laurentian, Victoria Hills/Cherry Hill, Shades Mills, Columbia/Lakeshore
The following Essential workers who cannot work from home: Elementary and secondary school workers (all staff); Workers responding to critical events (including police, fire, special constables, children's aid society workers, emergency management, critical infrastructure restoration workers); Enforcement, inspection and compliance roles (including by-law enforcement, building inspectors, food inspectors, animal welfare inspectors, border inspection officers, labour inspectors, WSIB field workers); Individuals working in childcare (all settings); Foster care workers; Food manufacturing and distribution workers; Agriculture and farm workers; Funeral, crematorium and cemetery workers; Essential and critical retail workers, including grocery, pharmacy, wholesalers and general goods, restaurant and LCBO workers; Workers in manufacturing and construction industries; Social workers and other social services staff; Courts and justice system workers; Transportation, warehousing and distribution workers; Workers in electricity industry; Communications infrastructure workers; Water and wastewater management workers; Financial services workers (bank branch staff); Veterinarians and veterinary teams; Waste management workers; Workers in the following industries - oil and petroleum, natural gas and propane, mining, and uranium processing
For pre-registration and other information about the vaccine for the region of Waterloo, please click on this link: https://www.regionofwaterloo.ca/en/health-and-wellness/covid-19-vaccine.aspx#
Several pharmacies are now also offering COVID-19 vaccinations to people 40 years of age and older. Locations and registration information can be found on this link: https://covid-19.ontario.ca/vaccine-locations
If you are not eligible to pre-register at the present time but you want to find out where you stand in the Canadian COVID-19 vaccination queue, please visit this link:
https://www.omnicalculator.com/health/vaccine-queue-ca
COVID-19 TESTING
If you have any symptoms compatible with COVID-19 or have had possible contact with a person with COVID-19 infection, STAY HOME AND COMPLETE THE ON-LINE COVID-19 SYMPTOM SELF-ASSESSMENT TOOL:
https://covid-19.ontario.ca/self-assessment/
After you complete the self-assessment, please follow the recommendations given. If you are recommended to get COVID-19 testing, you will be provided with a list of locations where you can schedule an appointment for testing (walk-ins are not allowed).
If you are having trouble breathing or rapid worsening of symptoms, or if you are elderly, immunosuppressed, or have a serious chronic illness, you should go to your nearest Emergency department for assessment.
HELP PREVENT THE SPREAD OF COVID-19
This pandemic has been with us for a year now, and there is still no indication of life returning to "normal" for quite some time yet. Although most people who get COVID-19 infection have a relatively mild infection and are sometimes asymptomatic, it is important to realize that some people do die from this virus and others continue to have ongoing health issues for a long time after their COVID-19 infection clears. As a result, we urge you to please continue to do your best to help reduce the spread of this infection.
Even when not in a state of emergency or lockdown state, please remember and follow these very important guidelines, which definitely do help to reduce the spread of COVID-19:
IF YOU ARE A RELATIVELY HEALTHY PERSON WITH MILD TO MODERATE COLD OR FLU SYMPTOMS, STAY IN YOUR HOUSE UNTIL ALL SYMPTOMS HAVE RESOLVED, BUT PLEASE MAKE ARRANGEMENTS TO HAVE COVID-19 TESTING (see below).
WASH YOUR HANDS AS OFTEN AS YOU CAN, AND AVOID TOUCHING YOUR FACE AS MUCH AS POSSIBLE.
PRACTICE "SOCIAL DISTANCING" AT ALL TIMES, EVEN WHEN YOU ARE WELL.
WEAR A 3-LAYER HANDMADE MASK WHENEVER YOU ARE OUT IN PUBLIC AND UNABLE TO GUARANTEE MAINTAINING 2 METRES (6 FEET) DISTANCE FROM OTHER PEOPLE.
We have posted some other helpful links about COVID-19 below to help keep you up to date on the ever-changing picture of this pandemic. If you have any questions about any issues related to this pandemic, please phone our office to make an appointment to speak with your doctor. Stay safe everyone, wash your hands, and keep your distance!
Yours,
Dr. Scott Wright and Dr. Stefanie Wright
---
NOVEL CORONAVIRUS INFORMATION
Useful links:
COVID-19 Vaccine - Region of Waterloo
Vaccine Queue Calculator for Canada
COVID-19 Assessment and Testing Centres in Waterloo Region
CPSO - COVID-19 FAQs for Patients
https://www.ontario.ca/page/2019-novel-coronavirus-2019-ncov
https://www.canada.ca/en/public-health/services/diseases/2019-novel-coronavirus-infection.html
https://www.cdc.gov/coronavirus/2019-ncov/about/index.html
Coronavirus Update (Live) from Worldmeters
---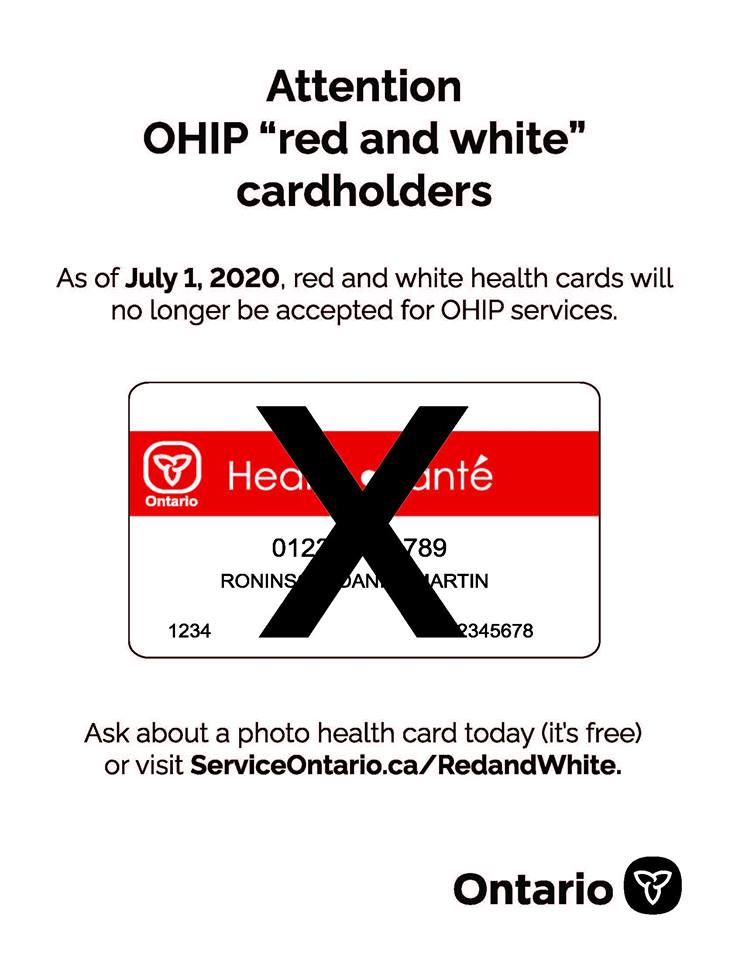 "Any person presenting a red and white OHIP card after July 1, 2020 will be required to pay for all health services until a new photo health card is obtained."