* Unfortunately, our practice is full and cannot accept any more patients. *
---
INFLUENZA VACCINES
* As of October 20 2020, we were notified by Public Health that family doctor's offices will not receive any high dose flu vaccines for people over 65 years old. You can either get your high dose flu shot at the pharmacy or we will still offer regular flu shots at our office by appointment only. *
We are now booking flu shot for November. Please contact the office to book an appointment for your family to come in as we are not doing walk-ins this year due to Covid.
Flu shots for high risk individuals will be available after Thanksgiving. High risk individuals include :
Age 65 and over

Health care workers

Age 6 months to 2 years

Pregnant women

People with chronic heart or lung problems

People with an underlying immunosuppressive condition

Household contacts of the above individuals
---
COVID-19 = DO NOT PANIC BUT ACT RESPONSIBLY, AND WE ARE HERE FOR YOU!
(updated May 24)
Information and recommendations about COVID-19 continue to evolve on a daily basis, with a huge amount of "misinformation" circulating – some of this misinformation is causing people to panic and feel helpless about this global pandemic, while other misinformation is causing people to believe that the pandemic is some sort of hoax or conspiracy. All misinformation unfortunately only serves to undermine our efforts to properly deal with the COVID-19 pandemic.
Here are the most critical pieces of advice that people should follow if we are to have any hope of reducing the global impact of this pandemic:
IF YOU ARE A RELATIVELY HEALTHY PERSON WITH MILD TO MODERATE COLD OR FLU SYMPTOMS, STAY IN YOUR HOUSE, BUT MAKE ARRANGEMENTS TO HAVE COVID-19 TESTING (see below).
WASH YOUR HANDS AS OFTEN AS YOU CAN, AND AVOID TOUCHING YOUR FACE AS MUCH AS POSSIBLE.
PRACTICE "SOCIAL DISTANCING" AT ALL TIMES, EVEN WHEN YOU ARE WELL.
WEAR A HANDMADE MASK WHENEVER YOU ARE OUT IN PUBLIC AND UNABLE TO GUARANTEE MAINTAINING 2 METRES (6 FEET) DISTANCE FROM OTHER PEOPLE.
If you have cold or flu-like symptoms but not are critically ill: STAY HOME. We cannot emphasize this enough. This virus is in large part being spread by people with mild or no symptoms.
If you are having trouble breathing or rapid worsening of symptoms, or if you are elderly, immunosuppressed, or have a serious chronic illness, you should still go to your nearest Emergency department for assessment; wherever possible it is recommended to contact Telehealth Ontario at 1-866-797-0000 ahead of time, so that preparations can be made in advance to help get you the medical care you require as well as minimize potential contact with other people in the process.
Otherwise if you are under 65 and have no major chronic illnesses, STAY HOME. Do NOT go to your family doctor's office. Do NOT go to a walk-in clinic. Do NOT go to the emergency room. No one can "check you out" and predict if you will become severely ill. IF YOU ARE CONCERNED ABOUT HAVING COVID-19, STAY HOME AND COMPLETE THE ON-LINE COVID-19 SYMPTOM SELF-ASSESSMENT TOOL:
https://covid-19.ontario.ca/self-assessment/
After you complete the self-assessment, please follow the recommendations given. However, if it shows a possible positive, you may now self-refer for COVID-19 testing. In Waterloo Region you may contact one of the following testing centres to schedule an appointment for testing (walk-ins are NOT allowed):
Grand River Hospital Testing Centre - 519-749-4300, ext 6824 (7:30am - 6:30pm)
St. Mary's Hospital Testing Centre - 519-885-9517 (9:00am - 5:00pm) - Appointments are required.
KW4 Community Assessment Centre, 50 Westmount Rd. N., Waterloo – 1-855-414-2255 (9:00am – 4:00pm Mon-Fri) - - Appointments are required
Cambridge-North Dumfries Assessment and Testing Centre, Cambridge Memorial Hospital – 519-621-2333, ext 2689 (8:30am – 8:30pm Mon-Fri and 8:30am – 4:30pm weekends and holidays) - Self-referrals are accepted by calling 519-740-4975 or emailing CMH COVID-19 Testing
if you have mobility issues and cannot make it to one of these testing centres, please phone our office, as we may be able to arrange for mobile testing that is being offered for eligible people.
If you are well with no respiratory symptoms at all, it is still imperative to socially distance yourself during your day to day activities. This includes avoiding going out in public as much as possible, as well as trying to maintain at least 2 metres (6 feet) distance between yourself and other people wherever feasible. It is now also recommended that you wear a handmade mask when out in public, especially when it may not be possible to maintain the 2 metre distancing at all times. Please reserve N95 masks and surgical medical masks for health care facilities only. There is still a critical shortage of masks and other personal protective equipment in hospitals, doctors' offices, and other health care facilities.
Although you should limit close contact with people over the age of 65 as well as those with immunosuppression or severe chronic medical conditions, please try to help them out in any small way, such as dropping off groceries or supplies, since these people will be the most socially isolated of everyone. And please do not panic or lose hope, even though this pandemic is going to be with us for quite some time, until a vaccine becomes available. If we all do our part to follow the expert recommendations to limit the spread of this virus, we will reduce the number of people who get sick and die from COVID-19 and we will also reduce the emotional and financial burdens that this pandemic has placed has upon our society.
We have posted some helpful links about COVID-19 to help keep you up to date on the ever-changing picture of this pandemic. If you have any questions about any issues related to this pandemic, please phone our office to make an appointment to speak with your doctor. Stay safe everyone, wash your hands, and keep your distance!
Yours,
Dr. Scott Wright and Dr. Stefanie Wright
---
NOVEL CORONAVIRUS INFORMATION
Useful links:
https://www.omnicalculator.com/health/vaccine-queue-ca
https://www.regionofwaterloo.ca/en/health-and-wellness/community-assessment-centres.aspx
https://www.cpso.on.ca/Public/Services/Patient-Help-Centre/COVID-19-Information-for-Patients?fbclid=IwAR2FvMZ0GZrVt3M6F0WRHSxlTITa5RoB9EYeHUGT1H4cDOIp3h3YDYW9Jxs
https://www.regionofwaterloo.ca/en/health-and-wellness/2019-novel-coronavirus.aspx?fbclid=IwAR3s0XcmJ0a0V_n57NQOf_CRZ0igK9Qr7MkWRe_aAjKJpIrvy05GKAetLIE#
https://www.ontario.ca/page/2019-novel-coronavirus-2019-ncov
https://www.canada.ca/en/public-health/services/diseases/2019-novel-coronavirus-infection.html
https://www.cdc.gov/coronavirus/2019-ncov/about/index.html
https://www.worldometers.info/coronavirus/?fbclid=IwAR1BgMVWo6lbMGVO40g66IJKwRJnrFqPImSvl1XNb8zr8GyqXdHn325IXJg
---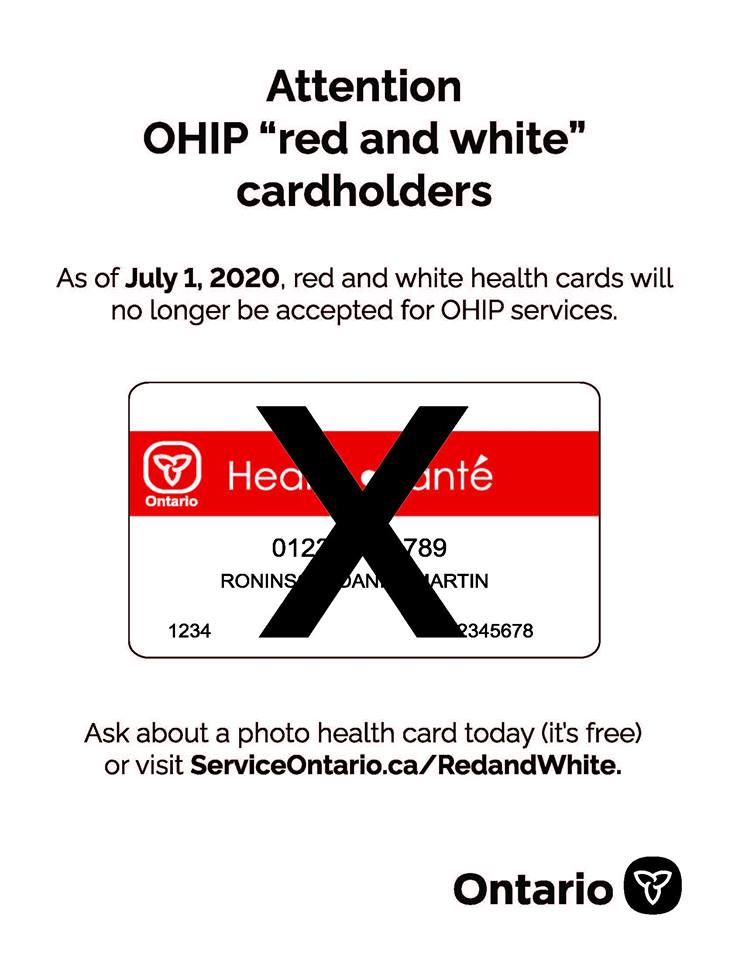 "Any person presenting a red and white OHIP card after July 1, 2020 will be required to pay for all health services until a new photo health card is obtained."