* Unfortunately, our practice is full and cannot accept any more patients. *
INFLUENZA VACCINATION 2021
Influenza vaccinations will be available BY APPOINTMENT ONLY, beginning the week of Thanksgiving. Click Here for information on Influenza Vaccination eligibility.
---
---
COVID-19 Information (updated September 18)
COVID-19 VACCINES
At the present time, COVID-19 vaccinations are available at specific designated locations in the community. We have not yet been given permission by public health to administer these vaccines in our office, although we are hopeful that at some point later this year we will be able to start offering COVID-19 vaccinations to our patients.
Public health COVID-19 vaccine clinics are offering Moderna (SpikeVax) and Pfizer-BioNTech (Comirnaty) vaccines to people age 12 (born in 2009) and older. Vaccines may be received on a walk-in basis at both the Cambridge Pinebush Vaccination Clinic and the Waterloo Boardwalk Vaccination Clinic. The Region of Waterloo is also offering in-home vaccination (to eligible people), mobile vaccination clinics, and post-secondary education clinics. To find out more information about these clinics and other information about the vaccine for the region of Waterloo, please click on this link: https://www.regionofwaterloo.ca/en/health-and-wellness/covid-19-vaccine.aspx#
Some pharmacies are offering Moderna and Pfizer-BioNTech COVID-19 vaccines to people aged 12 and older. To find out more information, please click on the following link: https://covid-19.ontario.ca/vaccine-locations
Second dose interval:
Moderna or Pfizer - you may receive a second dose as early as 28 days after your first dose
AstraZeneca - you may receive a second dose as early as 56 days after your first dose
A complete two-dose COVID-19 vaccine series provides strong protection against COVID-19 infection and severe outcomes, including against the Delta variant, in the general population.
To ensure maximum protection against COVID-19 and the Delta variant, Ontarians should get vaccinated as soon as they are eligible and able to get their second dose. Mixing vaccines is safe and backed by solid scientific data and is endorsed by both the National Advisory Committee on Immunization (NACI) and the World Health Organization (WHO). If your second COVID-19 vaccine is different from your first dose, you do not need to start your series over again. You will be considered fully immunized two weeks after receiving two doses of Health Canada approved COVID-19 vaccines.
Proof of Vaccination:
Vaccination receipts may be obtained from the Ontario Provincial Health website, by clicking on the following link: https://covid19.ontariohealth.ca/
Third dose:
In Ontario, select vulnerable populations are now eligible for a third dose.
Qualifying medical conditions - A third dose may be administered at a minimum of eight weeks after the second dose for: Individuals receiving active treatment (e.g., chemotherapy, targeted therapies, immunotherapy) for solid tumour or hematologic malignancies; Recipients of solid-organ transplant and taking immunosuppressive therapy; Recipients of chimeric antigen receptor (CAR)-T-cell therapy or hematopoietic stem cell transplant (within two years of transplantation or taking immunosuppression therapy); Individuals with moderate to severe primary immunodeficiency (e.g., DiGeorge syndrome, Wiskott-Aldrich syndrome); Individuals with stage 3 or advanced untreated HIV infection and those with acquired immunodeficiency syndrome; Individuals receiving active treatment with the following categories of immunosuppressive therapies: anti-B cell therapies (monoclonal antibodies targeting CD19, CD20 and CD22), high-dose systemic corticosteroids, alkylating agents, antimetabolites, or tumour-necrosis factor (TNF) inhibitors and other biologic agents that are significantly immunosuppressive.
Individuals who qualify for a third dose of vaccine because of a medical condition need to have their physician or specialist complete a referral form before they are immunized.
B. High-risk congregate settings - A third dose may be administered at a minimum of five months after the second dose for Residents of high-risk congregate settings including long-term care homes, higher-risk licensed retirement homes and First Nations elder care lodges
2. COVID-19 TESTING
If you have any symptoms compatible with COVID-19 or have had possible contact with a person with COVID-19 infection, STAY HOME AND COMPLETE THE ON-LINE COVID-19 SYMPTOM SELF-ASSESSMENT TOOL:
https://covid-19.ontario.ca/self-assessment/
After you complete the self-assessment, please follow the recommendations given. If you are recommended to get COVID-19 testing, you will be provided with a list of locations where you can schedule an appointment for testing (walk-ins are not allowed).
If you are having trouble breathing or rapid worsening of symptoms, or if you are elderly, immunosuppressed, or have a serious chronic illness, you should go to your nearest Emergency department for assessment.
HELP PREVENT THE SPREAD OF COVID-19
This pandemic has been with us for over 18 months now, and there is still no indication of life returning to "normal" for quite some time yet. Although most people who get COVID-19 infection have a relatively mild infection and are sometimes asymptomatic, it is important to realize that some people do die from this virus and others continue to have ongoing health issues for a long time after their COVID-19 infection clears. As a result, we urge you to please continue to do your best to help reduce the spread of this infection.
Even when not in a state of emergency or lockdown state, and even if you are fully vaccinated, please remember and follow these very important guidelines, which definitely do help to reduce the spread of COVID-19:
IF YOU ARE A RELATIVELY HEALTHY PERSON WITH MILD TO MODERATE COLD OR FLU SYMPTOMS, STAY IN YOUR HOUSE UNTIL ALL SYMPTOMS HAVE RESOLVED, BUT PLEASE MAKE ARRANGEMENTS TO HAVE COVID-19 TESTING (see above).
WASH YOUR HANDS AS OFTEN AS YOU CAN, AND AVOID TOUCHING YOUR FACE AS MUCH AS POSSIBLE.
PRACTICE "SOCIAL DISTANCING" AT ALL TIMES, EVEN WHEN YOU ARE WELL.
WEAR A 3-LAYER HANDMADE MASK WHENEVER YOU ARE OUT IN PUBLIC AND UNABLE TO GUARANTEE MAINTAINING 2 METRES (6 FEET) DISTANCE FROM OTHER PEOPLE.
We have posted some other helpful links about COVID-19 below to help keep you up to date on the ever-changing picture of this pandemic. If you have any questions about any issues related to this pandemic, please phone our office to make an appointment to speak with your doctor. Stay safe everyone, wash your hands, and keep your distance!
Yours,
Dr. Scott Wright and Dr. Stefanie Wright
---
NOVEL CORONAVIRUS INFORMATION
Useful links:
COVID-19 Vaccine - Region of Waterloo
Vaccine Queue Calculator for Canada
COVID-19 Assessment and Testing Centres in Waterloo Region
CPSO - COVID-19 FAQs for Patients
https://www.ontario.ca/page/2019-novel-coronavirus-2019-ncov
https://www.canada.ca/en/public-health/services/diseases/2019-novel-coronavirus-infection.html
https://www.cdc.gov/coronavirus/2019-ncov/about/index.html
Coronavirus Update (Live) from Worldmeters
---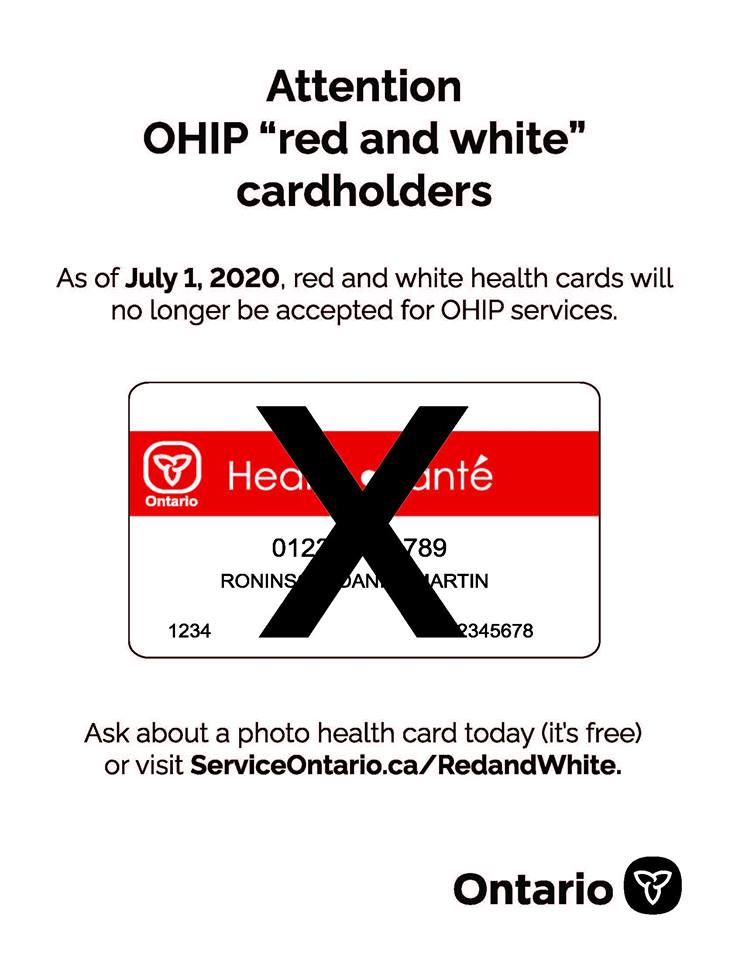 "Any person presenting a red and white OHIP card after July 1, 2020 will be required to pay for all health services until a new photo health card is obtained."