As a general rule of thumb: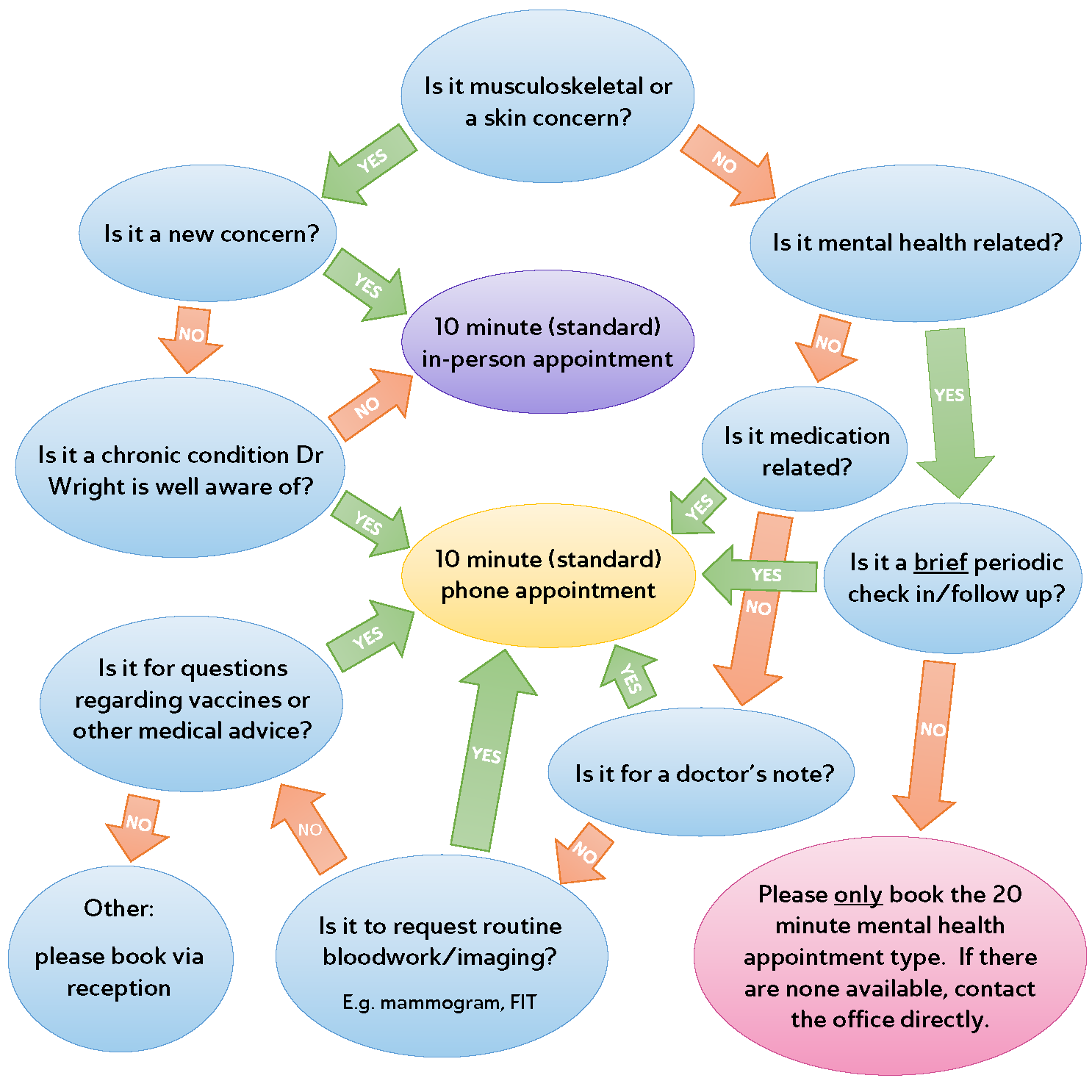 Please see the clinic hours page for the doctors' schedules.
A few things to note:
All appointments are subject to review before they are confirmed in our schedule.
If your health card is invalid, you will be responsible for the cost of your appointment if you do not provide a valid health card within 90 days.
If we need to cancel your appointment for whatever reason, we will make every attempt to contact you, however if you do not have a functioning voicemail and/or email, we are not responsible if you show up for an appointment that has been cancelled.
No shows will result in a missed appointment charge, and your online booking privileges may be revoked until this fee is paid.
Dr Scott and Dr Stefanie have a policy of one issue per 10 minute appointment. If you have multiple concerns, there is an option to book a longer, 20 minute phone appointment. If you feel your concerns cannot be addressed over the phone and you must be examined in person, please contact the office to book, as there is no option to book a 20 minute in person appointment online.
What can never be booked online?
Click on the appointment reason for more information.
We are not an emergency service, if you are having a medical emergency please visit your nearest ER immediately.
What can sometimes be booked online?
Vaccines
All vaccines must be authorized by your doctor before they can be administered. Also, some vaccines are not kept in stock and will need a prescription from Dr Wright sent to the pharmacy. If you have not yet discussed getting the vaccine with Dr Wright, then you must first book an appointment with them so they can prescribe the serum. To do this you must contact the office and book through reception since both Dr Wright and Rosie need to be available for your appointment.
If you have already had the first dose in a vaccine series administered by Rosie/Dr Wright, then you can book the 2nd and/or 3rd dose online. This can be done via the "Pre-authorized injection with Rosie" option.
What appointments can currently be booked online?
10 minute in person
This appointment type is intended for concerns where the doctor must do a physical assessment or see the area in person to provide a proper treatment plan. If your concern is one of the following, you should book this type of appointment:
new or changing skin condition

new or worsening injury/pain

abdominal pain/swelling

genital concerns

blood pressure concerns
For concerns regarding your heart, please contact the office directly. If you have any symptoms of a heart attack or stroke, do not wait; call an ambulance immediately.
10 minute phone appointment
If it is not necessary to do an in person examination in order to address your concern, then you should book a phone appointment. However, if you wish to discuss your mental health, please book in a dedicated mental health slot. Some concerns that are easily addressed over the phone are:
prescription renewals

requisitions for routine bloodwork and/or imaging

notes for insurance purposes (NO FORMS, please go to the Forms page if you have a form that you need filled out)

routine follow ups for chronic conditions

medical advice, questions about medications/vaccines, etc
Long mental health
This is a 20 minute phone appointment dedicated to discussing mental health concerns. We are not booking in person appointments for mental health at this time. We cannot make exceptions without permission from Dr Wright. If you feel a face-to-face conversation would be more helpful, contact the office to ask if a zoom call is an option instead.
We are not a crisis service and cannot book urgent same day mental health appointments. If you are having a mental health crisis, please contact a crisis helpline so you can speak with someone immediately.
Short mental health
This is a 10 minute phone appointment dedicated to discussing mental health concerns. This is intended for short regular check ins, so if you need extra time please book a long mental health appointment.
Pre-authorized injection with Rosie
This is an appointment with Rosie only, and should only be booked for one of the following:
vaccine series where the first dose has been administered by Rosie/Dr Wright (eg 2nd dose of Shingrix)

regular injections where the first dose has been administered by Rosie/Dr Wright (eg B12, prolia, iron)
Allergy shots cannot be booked in these slots, click here to find out why.
Routine infant wellness check/Child physical (16 years and under)
Infants are routinely scheduled for wellness checks at 1 month, 2 mo, 4 mo, 6 mo, 9 mo (for Dr Stefanie's patients only), 12 mo, 15 mo (for Dr Scott's patients only), and 18 months. From then on your child should have a physical between 2-3 yrs, 4-5 yrs, 12-13 yrs, and 14-16 yrs of age. These visits include any immunizations required by Public Health.
If your child is older than 16, they must be booked in an adult physical slot. Please see our policy on caregiver/parent/guardian access to health records and booking appointments for anyone 14 years of age and older.
Adult annual physical (includes Pap test if applicable)
OHIP will only cover one physical per year so you cannot book a physical within 365 days of your previous one. Pap tests are done for anyone with a cervix every 3 years from 25 to 70 years of age. We do not do Pap tests outside of your annual physical, with the exception of a repeat smear following an abnormal result.
Routine diabetic follow up
The online booking option for routine diabetic follow up is for an in person appointment where the nurse will take vital readings at the start of your visit. If you have a blood pressure machine at home and a log of routine readings, then you have the option to self-book a 10 minute phone appointment instead to review your results with your doctor. If you do not have a blood pressure machine at home then you must book the in person option.